Depending on the active package on your account, there are several posting options available. Here are the options for the "à la carte" packages.
1. Post only
This is the regular posting on the website. The job offer is displayed online for the number of days filled in the appropriate section. The end date is shown, and if you try to use more days than you have, a message will be displayed showing the end date based on the number of days you have in bank.
You also have the possibility to select the Featured job option. This option increase the visibility of your job offer but will deduct from your package a total of two posting days per posting day.

2. Post and broadcast
This display option includes all the same options than posting only, with the addition of the broadcast.
The broadcast is a targeted email to all candidates that fits the criteria of the job.
When choosing this option, the box in front of "Broadcast posting" is checked. You can choose a different region than the default one.

3. Posting 360
You need to have at least 30 days and 1 broadcast on your account to be able to use this option. It provides more visibility than the "Post and broadcast" option, but the whole 30 days are deducted at once from your account. You won't be able to undisplay the job offer before the end of the 30 days period yourself either.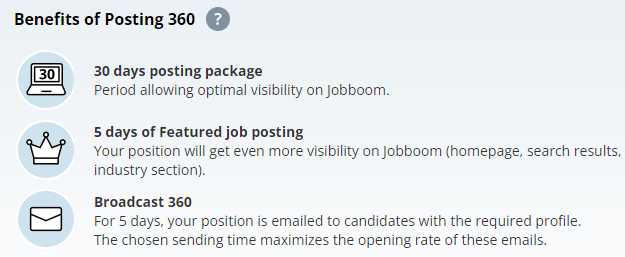 4. Posting on Job Bank
All of the posting options above include to post on Job Bank. Just make sure that the box is checked, then select the job title the closest to your job offer among the list*. Once the title selected, your job offer will be automatically posted on Job Bank when submitting your choices on the page.

*The list of titles is based on the Main duties selected in the Details tab. In case of doubt, don't hesitate to communicate with us.